Click the Territory Owner tab to load the Territory configuration screen.

The Territory Settings are listed on right-hand panel and the view defaults to the 'Territory images' section—click the 'Others' section.
This section is used to manage the settings for PermitManager to use to set the "traffic lights" to Green (Completed), as well as the types of signatures/watermarks that PermitManager will add to Documents: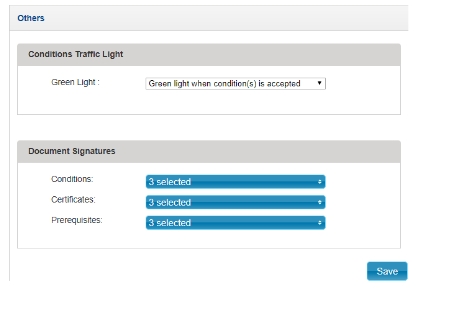 ​
The trigger for the Conditions Traffic Light can be set to "Complete" based one of the following options:
Conditions are sent

Conditions are downloaded

Conditions are accepted
One of more Document Signatures can be enabled for each Document type (Conditions, Certificates, Prerequisites):
Include User Signature (set by the User via

My Account

)

Include Watermark

Include Right-side Signature
Note: If enabled, but users have not uploaded signature files, the panel will be displayed with a blank space where the signature image would be expected.