​Permit Types dependent upon the activity type of incoming request from the OneCall service, or the selection made by the Territory Owner User when creating a manual permit request.
The following activity types from OneCall will not generate a permit request:
Subdivision

Conveyancing

Planning & Design

Tendering
Different Permit Types can hav unique workflows and associated costs.
Note: Please note that Permit Types and their descriptions are system generated and cannot be edited.
Only the costs and workflows within these permit types can be edited.
Click the Permit Types tab to load the Permit Types configuration screen.

Selecting a 'Permit Type' from the list displayed on the left-hand panel will load the Permit Type Info, Workflow mapped and Fixed Price details on the right-hand panel: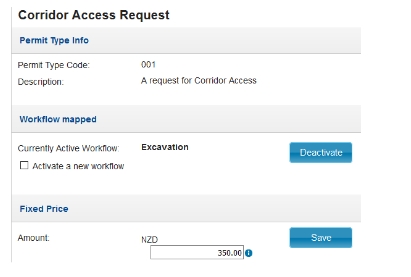 The Workflow mapped section details the Workflows that have been configured against the Permit Type.​
Mapped Workflows can be deactivated if required by clicking the Deactivate button. If you deactivate this mapping you run the risk of not being notified of potential applications. Please make sure you activate the Permit Type to another workflow (or create its own workflow) so this does not occur.
New Workflows can be mapped by clicking the "Activate a new workflow" check-box.
This will expand the section to display dropdown list of the Available Workflows:

Select the appropriate Workflow and then click the Activate button to map the new Workflow.
A default Fixed Price can be set for the Permit Type:

Enter in the dollar-amount and select whether to Include Tax on that fee. If you select 'Yes' you will need to provide the amount (as a percentage) and name the Tax (eg, "GST").
Click Save to commit the changes.