If you are a new user, you will be sent an email by your Administrator with a link to follow to PermitManager. You will then be prompted to select a password for yourself, and this is what you'll use to login in future.
If you are an existing user, you can log in by putting your username and password in: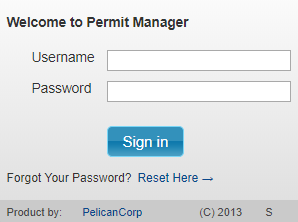 The Dashboard screen will then load.
When you go to open a permit request, it will load in a new window. If individual permit windows do not open, it may be because you have a pop-up blocker on your browser. Most browsers will give you an error notification or a status bar advising that a pop-up has been blocked. Follow the prompts to allow pop-ups for the PermitManager site, then try opening the permit again and it should load the window.
Otherwise, you may need to manually allow pop-ups in the browser's settings. Instructions for some popular browsers are listed below: