All PermitManager User​​s can manage their account details by either click the My Account tab or clicking on their Username located next to the Logout button at the top right of the screen:​

This will display the 'Edit User Info' and 'Update Credentials Info' details.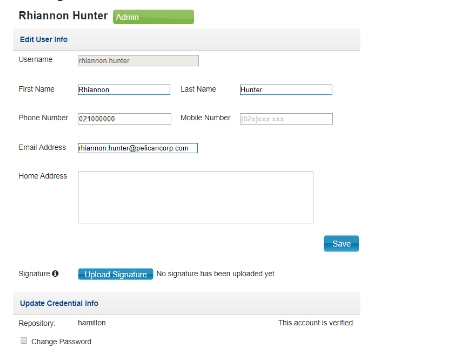 Editing User Info
All Users have the ability to manage there account details:
First & Last Names
Phone Number
Mobile Number
Email Address
Home Address
Note

: only Admin Users can change a User's Account Type. 

The Username cannot be changed once an account is created.
Click Save to commit any changes
Uploading/Updating your Signature
Signatures are used on prerequisite documents that require formal "sign-off".
A Signature is added to the set by clicking the Upload document button—this will display the 'Change Signature' popup window: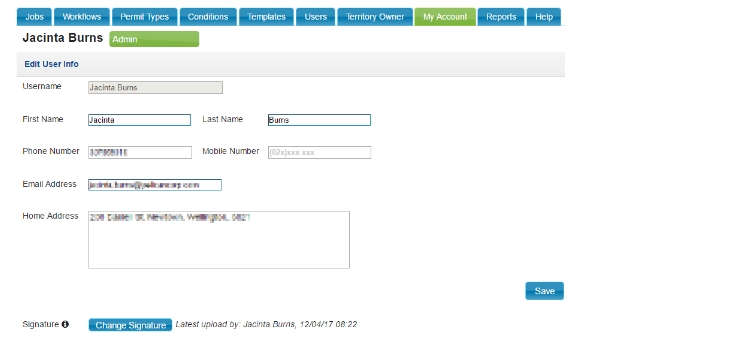 The Current Used Signature (if loaded) will be shown.
To upload/update a Signature, click the Choose File button to select the image (file) that will be uploaded.
Note: The signature image must be 300 x 100 pixels
Click Upload to save the Signature.​
Updating Credential Info
To update your Password, click the "Change Password" check-box—this will expand the section to display the Password fields: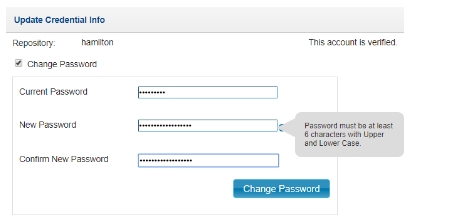 Enter your Current Password, and the New Password—enter the new Password again in the Confirm New Password field.
Note

: It must be at least 6 characters long and have both upper and lower case 
alphabetical characters.

Click the Change Password button to commit the changes: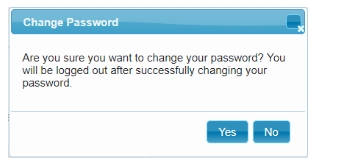 A confirmation popup will appear—click Yes to confirm or No to cancel
The system will automatically logout—Log back in using your new set Password.